Intellectual Property and Licensed Material

The Best Value Approach (BVA) Quality Assurance/Quality Control (QA/QC Program) inclusive of the Information Measurement Theory, Performance Information Procurement System, Weekly Risk Report and Director's Report was created by Dr. Dean Kashiwagi and his research group Performance Based studies Research Group (PBSRG). Through an agreement with Skysong Innovations, a unit of the Arizona State University knowledge Enterprise, the BVA QA/QC Program has become licensed technology.
The BVA technology is used in the QA/QC system. It requires the expert vendors to mitigate risk while delivering the services on time, on budget with high customer satisfaction. The BVA QA/QC program uses the vendor to do quality control on the project while the client does quality assurance. This system has the client QA program identify and utilize the expertise of the expert vendor to track time and cost deviations in the project and tracking the performance of electrical, mechanical, structural, and other technical systems.
QA/QC Program

The BVA QA/QC Program is designed to fit within the traditional delivery of construction. This includes:

Tracking the performance of the systems after acceptance and into the use of the systems.
Identifying and utilizing the expertise of the vendors to provide the performance metrics.
Weekly reporting on all technical systems through construction and implementation of the systems.
The capability to resolve risk issues quickly and efficiently by utilizing information.
The capability to resolve risk issues quickly and efficiently.
Program Requirements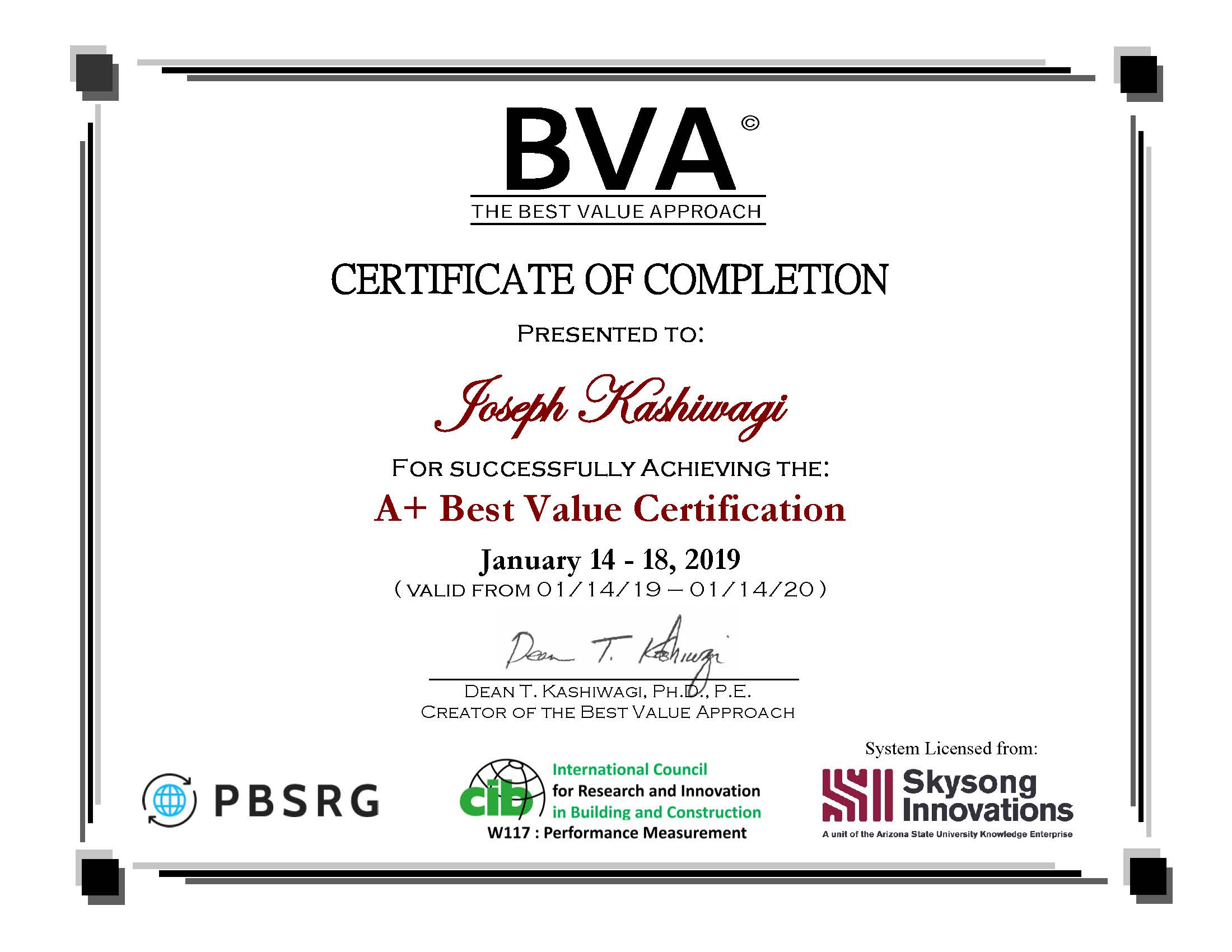 This program requires the following conditions are met to be certified:
The organization has at least 1 A+ Best Value Approach certified person.
All subcontractors of the organization utilize, understand, and report through the Weekly Risk Report.
Organization is licensed with the BVA Technology.
Certified Organizations

| Organizations | Dollar Amount | Years | Current Status |
| --- | --- | --- | --- |
| United Integrates Services | N/A | 2021 – Current | Certified |
| Staples | $10M | 2019 – Current | Certified |
| Green Planet 21 | $5M | 2018 – Current | Certified |
| Knutson Construction | $370M | 2011 – Current | Certified |
| State of Oklahoma | $54M | 2008 – Current | Certified |
| Insulated Roofing Contractors | $63+M | 2000 – Current | Certified |
| State of Utah | $80M | 1999 – Current | Previously Certified |
| Rijkswaterstaat [Dutch federal agency infrastructure] | $1B | 2009 – 2011 | Previously Certified |
| United States Air Force & Army Corps of Engineers | $40M | 2007 – 2009 | Previously Certified |
| United States Army Medical Command | $1B | 2006 – 2011 | Previously Certified |
| Arizona State University & State Departments | $1.8B | 2006 – 2017 | Previously Certified |
| State of Minnesota and University of Minnesota | $495M | 2005 – 2020 | Previously Certified |
| City of Peoria | $511M | 2004 – 2010 | Previously Certified |
| State of Hawaii | $63M | 1992 – 2002 | Previously Certified |